2023-03-23: Finished reading, with satisfaction: Blindsight by Peter Watts 📚 Well that was rather excellent. I …
2023-03-19: Finished reading, with satisfaction: Bird by Bird by Anne Lamott 📚 What a good book. This is …
2023-03-05: Currently reading: Bird by Bird by Anne Lamott 📚 Why did I wait so long to start reading this? Why …
2023-02-04: Finished reading, with satisfaction: The Fifth Season by N. K. Jemisin 📚 Good story, it really …
2023-01-27: Finished reading, with satisfaction: The Dispossessed by Ursula K. Le Guin 📚 100% …
2023-01-26: Currently reading: The Dispossessed by Ursula K. Le Guin 📚 93% XXXXXXXXXXXXXXXXXXOO 100%
2023-01-22: Currently reading: The Dispossessed by Ursula K. Le Guin 📚 60% XXXXXXXXXXXXOOOOOOOO 100%
2023-01-21: test for mastodon integrations…
2023-01-20: Currently reading: The Dispossessed by Ursula K. Le Guin 📚 24% xxxxoooooooooooooooo 100%
2023-01-16: Currently reading: The Dispossessed by Ursula K. Le Guin 📚 This is going to be a page turner, I can …
2022-12-11: This morning.
2022-12-09: From the archive.
2022-12-08: Some cool frost from the other morning. Fairly rare around here.
2022-12-07: Something I saw earlier today. It's just clouds. I mean, I know sunsets are cliche. But I …
2022-12-05: From the archive.
2022-12-04: Saw a cool cloud this afternoon. Actually, there were a bunch of cool clouds. The light in the late …
2022-12-03: Sunset yesterday.
2022-11-25: Lovely sky at sunset this evening.
2022-11-09: Was discussing names that stretch the limits with a friend tonight. A person he knew had used a …
2022-08-03: What's new today? Getting my running going again. Aiming for 3 runs this week of 20 minutes …
2022-07-09:
Finished reading, with satisfaction: A Little History of the World by E. H. Gombrich 📚
2022-07-06: Finished reading, with satisfaction: A Brief History of Equality by Thomas Piketty 📚 5 out of 5 …
2022-07-05: On Making My Writing Less Hard
You probably remember that I recently said I was revising the plan. Well, that was saying that I …
2022-07-03: I added How to Know Everything by Elke Wiss to my Want To Read shelf 📚 I saw this book before …
2022-07-01: Just finished Sable. What a cool game. What a great soundtrack.
2022-06-30: Finished reading, with satisfaction: The Bullet Journal Method: Track the Past, Order the Present, …
2022-06-30: Revising the plan
OK, so what have I learned from the longer and the shorter recent blogging chain? And what am I …
2022-06-26: Question: has anyone tried combining bullet journal collections and johnny.decimal? Too fiddly or …
2022-06-24: In light of today's news, which I strongly disagree with, I am keeping my distance from the …
2022-06-23: If you find that you are doing too many things, do fewer things.
2022-06-22: I took BART today for the first time in, well, ever. I am actually quite impressed. It was a smooth …
2022-06-20: Just Journaling
I am ambivalent at best toward online Bullet Journal culture, more often I find the ferver off …
2022-06-19: I was going to write about my busy day today. I started writing it, in fact. But I wouldn't …
2022-06-18: Currently reading the audiobook: Braiding Sweetgrass: Indigenous Wisdom, Scientific Knowledge and …
2022-06-17: This Week In Captio Captures
Some things I quickly captured this week with Captio:
2022-06-16: Bullet Journaling? Just doing a quick tour through this. I kinda feel like my notes aren't gelling, and …
2022-06-15: On setting aside The Discourses of Epictetus
I've had to move Discourses, Fragments, Handbook (Oxford Worlds Classics) by Epictetus 📚 to my …
2022-06-15: Thanks @jean for the stickers!
2022-06-14: Too Many Words
Again, with the power prompt today there was too much material. Here is the current recipe:
2022-06-13: End of day ramble Time is running out and I haven't thought of much to write here today. I did use my power …
2022-06-12: June Rain It's a really nice day to share an all too brief and far too rare June rain with some friends …
2022-06-11: TIL: a powerful journaling prompt There was a comment on a hackernews post this morning about journaling that I thought I would give a …
2022-06-10: Gosh this is difficult.
2022-06-09: Journeys and Stories and Secret Destinations
All journeys have secret destinations of which the traveler is unaware.
2022-06-09: I'm starting a new daily blogging chain today. I had done really well with the pin for 30 days …
2022-06-06: I have found an unknown treasure right in my own backyard. Excellent backpacking is a truly short …
2022-06-03: Writing blog posts is difficult when there is a lot going on and I have weekend plans to prepare for …
2022-06-02: Two random... realizations(?) today, I guess I won't make a big thing about this. Because I commuted to the office today, I have less time …
2022-06-01: A couple of phrases that I noticed while reading lately
It's fun to notice the shorter and longer phrases that you're noticing while reading.
2022-05-31: Planning to write, writing a plan For the last couple of weeks ⊕ Actually 4 weeks.I've been planning out my writing schedule. …
2022-05-30: Pinnacles National Park I had a brief visit to the West Division of Pinnacles National Park this morning, to hike the …
2022-05-29: hmm, this is why I don't have tea after noon.
2022-05-28: ☕️ tea time!
2022-05-27: Happy long weekend everbody! For folks that get a long weekend, anyway.
2022-05-26: Oddball social media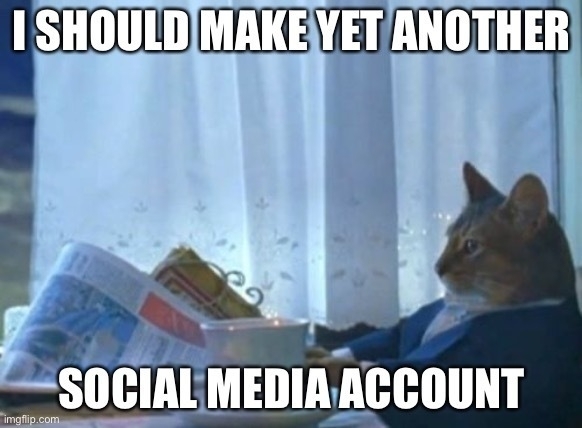 I thought I would do something a little lighter today, so I'm sharing some of the other takes …
2022-05-25: Too many inboxes?
I mean a different type of inbox in this post, not the email inbox. Well, not always.
2022-05-24: Getting my email back A couple of years ago I noticed that I actually wasn't the owner of my email inbox. My email …
2022-05-23: Quieting the Noise Sometime last fall I made the effort stop multitasking at work. Rapidly switching context had …
2022-05-22: Reporting from the road: finale
Not the finish I was expecting
2022-05-21: Reporting from the road: the return
Today's drive was the reverse trip of part 2, Portland to Ashland, 285 miles (460 km).
2022-05-20: Masks, 2 of 8
In which another mask is described.
The second mask is similar in overall structure to the first. …
2022-05-19: Powell's Books (Hawthorne) keeping it 💯 I'm still impressed, even after all these years. …
2022-05-18: Dracula Daily May 9-18
Spoiler Warning.
2022-05-17: Masks, 1 of 8
The house I am staying in has a few masks decorating the walls. There are 8 masks in 3 rooms, I …
2022-05-16: Do y'all know this book? The Art of Noticing by Rob Walker 📚 I love this book. Anyone know any …
2022-05-15: Brunch Brunch at home is such a good meal. Even if home this week is a rental in the next state. Overnight …
2022-05-14: Portland, OR recommendations? I'll be in town for the next week. What's good these days? …
2022-05-14: ⊕ Tree in SE Portland, OR. Portland has great trees. 📷📱
2022-05-13: Reporting from the road II: destination reached
More miles more smiles. Or, in our case, less miles less weird stuff.
2022-05-12: Does anyone get Apple Shortcuts the app on iOS? I am trying to grok it but maybe I am missing …
2022-05-12: Reporting from the road
The road is a great place see things.
2022-05-11: On getting out of town
I'll be road tripping north today, and on past trips I noticed that some towns feel faster to …
2022-05-10: Dracula Daily is taking off? I didn't have this on my bingo card. @cobblystreet on Twitter has …
2022-05-10: Started reading: A Brief History of Equality by Thomas Piketty 📚 for a book club.
2022-05-09: What makes a good first sentence work? 📝 In Writing Life Stories: How To Make Memories Into Memoirs, Ideas Into Essays And Life Into …
2022-05-09: It was chilly this morning, but the clouds were cool. 📷📱
2022-05-08: Dracula Daily 3-8 May
The events of the book so far are summarized and discussed. Spoiler Warning.
2022-05-07: Pardon my dust
While I experiment with Micro.Blog and the Tufte Theme
I will be editing and republishing this same …
2022-05-06: Lao Tzu: Tao Te Ching by U. Le Guin Finished reading, with satisfaction: Lao Tzu: Tao Te Ching: A Book about the Way and the Power of …
2022-05-06: Reflecting on the week It has been a busy week, but a good week. There were plenty of moments that I took time to think, to …
2022-05-06: It's been a heck of a week, so I made the fanciest coffee I can at home. Cheers! ☕️
2022-05-05: Evening Links
Some links from my nightly RSS news feed.
2022-05-05: A few quick thoughts after having just finished The Grail by B. Doyle Finished reading yesterday, with satisfaction: The Grail: A year ambling & shambling through an …
2022-05-05: Passwordlessness is coming! I hope this is a good thing.
2022-05-04: Too Much to Know by A. Blair
In which I report a couple of very interesting things I found in the book, and why I ultimately …
2022-05-03: The piece of news from the day, ⊕ PDF of the front page of the New York Times. about the leaked …
2022-05-03: The intellectual is, quite simply, a human being who has a pencil in his or her hand when reading a …
2022-05-03: Is it just me, or are phishing text messages really getting out of hand? Used to be they were only …
2022-05-03: Oh oh, oh! Dracula Daily began today! I don't know why I am so excited about this! Maybe …
2022-05-03: What is the right etiquette and way to Micro.blog this? I really enjoy these comic-commentary types …
2022-05-02: Lena @ Things of Interest is a short-ish piece of sci-fic posing as something like a Wikipedia …
2022-05-02: I was frankly relieved to discover on Sunday night that there are no follower counts on Micro.blog. …
2022-05-01: Yesterday was one of those rare days with a mild persistent headache and achy teeth. That is despite …
2022-05-01: Started reading Writing Life Stories: How To Make Memories Into Memoirs, Ideas Into Essays And Life …
2022-05-01: Started reading The Grail: A year ambling & shambling through an Oregon vineyard in pursuit of …
2022-05-01: Started reading Discourses, Fragments, Handbook (Oxford Worlds Classics) by Epictetus 📚 on …
2022-04-30: Abandoned reading: The Extended Mind: The Power of Thinking Outside the Brain by Annie Murphy Paul …
2022-04-29: Found out about Dracula Daily, a Substack that will mail out the contents of the book on the dates …
2022-04-28: Introduction Hello new friends. Let me do a short introduction here. I like to write 📝 and want to get better at …